Ohio Days: My Plate, My State is a Farm to School program in Central Ohio. This program features one meal a month served in school cafeterias that is entirely grown, raised and/or processed in Ohio. This program envisions a school environment where children are served healthy, local, fresh foods in the cafeteria and learn about this food in their classroom or through experiential learning. The program features different components including:

Procurement
Education
Project Team
Participating Schools and Programs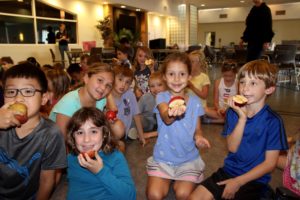 Over 320,000 Ohioans participated in the Great Apple Crunch in October by Crunching into locally grown apples to celebrate National Farm to School month, choosing healthy food and supporting local farmers!
Check out the Great Lakes Great Apple Crunch Facebook page to see if your crunch was featured!
2020 Meeting Dates will be Thursdays from 9:30-12 pm:
September 3 and December 3
4-H Project Green Teacher is a school garden educational program for after school personnel, educators and others who are engaged in, or would like to learn more about gardening as a context for learning.