What is Farm to Early Care and Education?
Farm to early care and education (farm to ECE) offers increased access to the same three core elements of local food sourcing, school gardens and food and agriculture education to enhance the quality of the educational experience in all types of ECE settings (e.g., preschools, child care centers, family child care homes, Head Start/Early Head Start, programs in K – 12 school districts). Farm to ECE offers benefits that parallel the goals and priorities of the early care and education community including emphasis on experiential learning opportunities, parent and community engagement and life-long health and wellness for children, families and caregivers.
---
Why Farm to Early Care and Education?
Abstract: The purpose of this research brief is to report on the impact of Harvest of the Month (HOM) for Early Care and Education (ECE) at home to better understand parent perspectives and influences on children's nutrition behavior. Harvest of the Month (HOM) is a farm to school programming strategy that features a locally grown food in at least one nutrition and agriculture lesson, taste test activity, and a snack or meal recipe each month. This exploratory study used a survey research design to gather parent perspectives during pilot implementation of HOM for ECE during the 2017–2018 school year. The survey was delivered electronically. Twenty-one parents from a campus-based preschool program in the northwest United States reported procurement and consumption of HOM foods at home. Findings suggest that a variety of HOM foods are being served and consumed at home. Parents in this study placed more importance on knowing where food comes from rather than serving local foods. Further, parents' knowledge of farm to ECE, reported food purchasing at farmer's markets, and participation in community-supported agriculture (CSA) programs were limited, suggesting a need for continued targeted parent education that could have a positive effect of families' healthy eating.
---
Ohio Farm to ECE work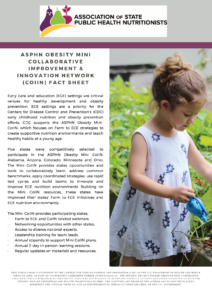 Ohio is one of 10 states awarded the ASPHN Farm to ECE Implementation Grant (FIG). Our newly formed Ohio Farm to Early Care and Education Coalition seeks to support processes that get more nutritious, local foods to young children in early care settings, while supporting more local farmers. We especially want to increase opportunities for children of color and farmers from underrepresented populations, and we recognize that we need more voices at our table to do this well. The newly expanded coalition will submit a policy recommendation to improve Ohio's obesity prevention and child nutrition standards. The coalition will also create/pilot an innovative ECE procurement innovation.
Prior to the FIG, Ohio was involved in the ASPHN Farm to ECE Mini CoIIN. The goal of this project was to support and enhance state level farm to early care and education (ECE) initiatives to increase the quality of ECE settings and access to healthy environments for young children by July 2020. This project will provide technical guidance and support for state teams utilizing a quality improvement process to increase the number of ECEs conducting sustainable, comprehensive farm to ECE.
Learn more about the former Mini CoIIN initiative and Ohio's plan here.
---
Farm to ECE Resources
 How to Buy Local Food for Early Care sites
How to Serve Local Food for Early Care sites
Tools to teach about food
Gardens and Growing