What is SGO?
We are a grassroots organization committed to making school gardening a vital part of the educational culture in Ohio by offering fun, educational networking opportunities for school garden enthusiasts.
Mission
We are a collective group of garden educators, community members, and organizations who network to offer fun and educational opportunities for school garden enthusiasts.
How We Got Started
In 2014, two individuals, one from Ohio State University Extension in Franklin County representing 4 H, and another from Slow Food USA and Olentangy Local School District, had a vision to make school gardens a vital part of the educational culture of Ohio. With the belief that school gardening can lead to increased outcomes for youth such as improved nutrition and a deeper engagement in learning, the two invited additional members to the grass roots organization, currently known as School Gardens of Ohio or SGO.
2022 Meeting Calendar
All meetings are scheduled for 4:30 - 6pm unless noted otherwise. 
January - Grind2Energy Food Waste at Dublin Jerome. Recording here. 
February - Grind2Energy Details. Recording here.
March - no meeting 
April 13th - Mid Ohio Food Collective Farm. Register here.
May 11th - How Master Gardeners can Support School Gardens. Register here.
June 6 -10 4H Project Green Teacher Hybrid Series; School Garden Education Series for Educators and Others
4-H Project Green Teacher is a school garden educational program for school and afterschool educators and others who are engaged in, or would like to learn more about gardening as a context for learning.
Find additional information and register here.
July - no meeting. 
August 10th- Harvest Celebration
September - Newark City Schools
October - 4H School Garden Conference 
November - Open
December - Open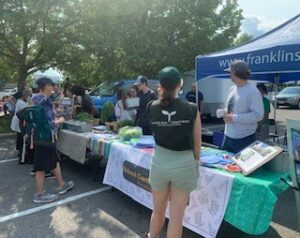 Get Involved!
Sorry, no content matched your criteria.