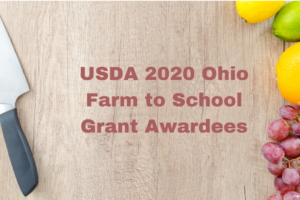 Since 2013, the USDA Farm to School Grant Program has offered annual grants to schools, school districts, nonprofits, state agencies, agricultural producers, and Indian Tribal Organizations to plan, implement, or provide training on farm to school activities. FNS is committed to working with schools and agricultural partners to ensure healthy habits take root in early childhood. Congratulations to all Ohio recipients!
1. Community Roots – $47,885
Mount Vernon, Ohio
Grant Type: Planning
Mount Vernon City School District is home to almost 4,000 students in six elementary schools, a middle school and a high school. The main objective of the Farm to MV Project is to build a sustainable, comprehensive Farm to School Program focused on local food procurement, agricultural education and school gardens focused on building the program using a Farm to
School Action Plan. Farm to MV will build a Farm to School program by strengthening farmer partnerships, reviving and building school gardens, and working with curriculum specialists and teachers to integrate K-12 curriculum that compliments standards while enhancing agriculture
education. This will be possible through the hiring of a full-time Farm to School Coordinator, creation of a Farm to School Action Team, and collaboration of several community health and
education organizations.
2. Federal Hocking Local School District – $99,817
Stewart, Ohio
Grant Type: Implementation
Federal Hocking Local School District (FHLS) will develop, implement, and share a system for identifying and ordering local food products. FHLS will collaborate with Rural Action and leverage their 25 years of experience in rural development and Farm to School network creation to connect with a wide network of producers. The project will build a long-term system for easy local procurement, launch a district wide Farm to School educational and marketing plan, and develop a replicable Farm to School toolkit that works for rural schools, cafeteria staff and local farmers.
3. Nightingale Montessori, Inc. – $100,000
Springfield, Ohio
Grant Type: Implementation
Nightingale Montessori, Inc. will expand the outdoor classroom learning gardens and equip a community teaching kitchen facility so that it can pilot a living laboratory classroom for hosting community workshops. The school serves the students of urban Springfield, Ohio, a qualified opportunity zone, and 40% of students participate in the free and reduce price program. The project will collaborate with a neighboring school, Catholic Central HS and the rural Heron Berry School Farm in the county where students go to harvest farm produce, prepare and consume farm foods on site. This will help supplement school meals with fresh, locally sourced fruits and vegetables. This hands-on experience model will be share with other schools in the Clark County area.
4. Ohio Department of Agriculture – $100,000
Reynoldsburg, Ohio
Grant Type: State Agency
The Ohio Department of Agriculture, in partnership with the Ohio Department of Education, will expand the current statewide Ohio Farm to School Network to provide a framework for cohesive communication and coordination among farm to school programs across the state. The network will unify the state by creating regional networks to develop a "Highlight my Plate" campaign. The project will aid food service directors in procuring local food, engaging more farmers in growing and selling produce to schools, and strengthen communication to share resources with other entities across the state.