Great Lakes Great Apple Crunch 2019
What is Farm to School?
Has your program ever grown a plant, served local food or taught about nutrition or agriculture? If so, you have participated in Farm to School efforts. If you haven't participated in Farm to School activities, get started with the Great Lakes Great Apple Crunch!
The Great Lakes states of Minnesota, Wisconsin, Illinois, Indiana, Michigan and Ohio celebrate National Farm to School Month ➚, nutritious meals and local farmers by crunching into locally and regionally grown apples at NOON on Thursday, October 10, 2019. Although we aim for a collective Crunch heard 'round the region on October 10 at noon, you are welcome to Crunch any day or time in October that works for you. Participants of all ages, and at all different sites, are encouraged to Crunch!
Why Crunch?
The Great Lakes Great Apple Crunch is one big effort to encourage healthy eating and supports Farm to School and other local food purchasing initiatives throughout the region. It's also a fun way to connect food and agriculture to classroom curricula- from science to art and more!
Apple Crunch can be as big as having a school wide event with crunch t-shirts and selfie frames or it can be as simple as having an apple taste test.
The crunch is also an effective introduction to other Farm to Early Care and Education components such as growing plants or incorporating nutrition or agriculture education.
When Becky McGuire, the SNAP-Ed Program Assistant in Williams County, incorporated pumpkin exploration into her lesson plans, she realized the importance of introducing children to fruits and vegetables. For some students, this was their first experience exploring the inside of a pumpkin and they had no idea that there were seeds inside.
"Just that initial 'this is what a seed is, wow there are so many of these in the apples and pumpkins and it only takes one seed to grow one tree, and then you get all these apples'…that whole concept, I don't think that they get other than if we show them," said McGuire. ​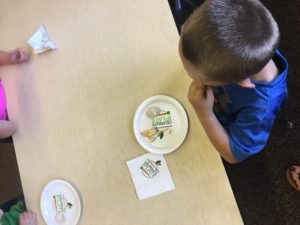 Apple Crunch Success Story 2018
McGuire stumbled upon the Great Lakes Great Apple Crunch in 2018. The activity fit into her fall programming as her six head start preschool classes were already learning about apples. McGuire's Apple Crunch experience included a collaborative field trip organized by Head Start teachers to a local apple orchard, an apple scavenger hunt and apple snacks.
Visiting an Apple Orchard
The classes that took a field trip to the apple orchard learned a lot from the experience. Before the visit, McGuire talked to them about different colors of apples and different ways to eat apples. After visiting the apple orchard, she reconnected the concepts including the colors of apples the classes saw and how they are grown in the orchard.
"It's even better if the teacher can bring in an apple farmer or if they can do the field trip, so kids can actually see where the apples grow and how they grow; that educational piece is greatly enhanced," said McGuire.
Scavenger Hunt
Coupled with the field trip, McGuire set up a scavenger hunt by hiding different color apples around the room and having the preschoolers hunt for them. On the back, she wrote different facts about apples and read a few of them aloud. Some facts included that an apple tree lives to be a hundred years old and that it takes 50 leaves to make one apple.
"They love running around and finding apples" and then the transition to 'ok let's try and taste one worked well,'" said McGuire.
Apple Snacks
Instead of using a whole apple, McGuire cut the apples into pieces to make it easier for the three and four-year-old preschoolers to eat. She also offered a dip to show them different ways to eat apples.
"If you don't like plain apples, but you have a dip, maybe it will taste better," said McGuire.
Crunching into 2019
This year, McGuire plans to make applesauce, do apple crafts, have a scavenger hunt and read the book "Orange Pear Apple Bear" by Emily Gravett. After creating her plans for Apple Crunch with Henry County Program Assistant, Carolyn Badenhop, she shared them with the remaining Program Assistants in the area, so they can also Crunch without having to make a new plan. McGuire suggests creating a network of stakeholders, such as Ag Extension Educators and local growers, who may be able to answer questions while using the same lesson plan. ​
McGuire's advice for first time crunchers: "Make it as simple as you have to, but encourage kids to sample apples and capture pictures of the activities," said McGuire. "The whole point is to have your participants in that week somehow, someway try an apple, and then promote that tasting of a (hopefully) local apple."
Applesauce
This year, McGuire is especially excited to make applesauce with her Head Start classes.
"Linking the apple lesson with a hands-on cooking activity including the same food will bring the concept full-circle," said McGuire. "It will be fun to watch them grasp the concept of seed to tree to fruit to food."
Family Engagement
The SNAP-Ed Program Assistant also plans to incorporate opportunities for family engagement with Apple Crunch.
McGuire plans to share the activities completed in the classroom with parents via the school newsletter, bulletin board materials and in conjunction with Head Start family events. Additionally, recipes and handouts are sent home with each student to hopefully gain transition of content from student to parent.
Where do I sign up?
Click here to register for the Great Lakes Great Apple crunch.
After registering for free, you will receive a crunch guide with more tips for a successful Apple Crunch including tips on how and where to purchase local apples, recipes, activities and more!