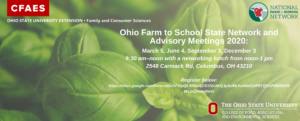 Ohio Farm to School State Network and Advisory 2020 Meeting Dates:
March 5, June 4, September 3, December 3
Join the Ohio Farm to School Advisory and State Network meetings to connect with organizations, state agencies, and schools participating in Farm to School efforts throughout Ohio. All 2020 meetings are on Thursdays from 9:30 am–noon with a networking lunch from noon–1 pm. Meetings will be held at the Franklin County Extension building at 2548 Carmack Rd, Columbus, OH 43210.
If you plan to attend the June 4 meeting, please register here.