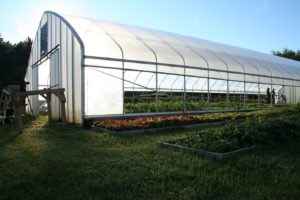 An Ohio seminary is offering hands on training to its students on growing food. They are focused on being both a place of learning and a place to gather and celebrate fresh, local food.
The Methodist Theological School in Ohio (MTSO) near Delaware founded Seminary Hill Farm (SHF) in 2013. They began raising food for their dining service in the spring of 2014. Tadd Petersen the manager of Farm and Food at SHF said, "We have raised far too many different crops to list them all. This season we raised roughly 30 different crops at around 80 different varieties. Baby greens are our specialty (and our most profitable crop)." They provided $26,000 worth of produce to the school's dining hall this year, in addition to produce provided to off-campus customers and CSA members.
The farm team works hard at building a biological farming system that optimizes every aspect of production. Their strategic crop rotation encourages plant nutrition by using natural fertilizers, such as organic matter and compost; they have built up the sustainability of the soil. Hand management is preferred to preserve the integrity of the soil and the health of the plant. The tools and techniques Seminary Hill Farm uses are based on the knowledge learned from hundreds of years of traditional farming. They are committed to these practices as they build a sustainable food system for their community and the future generations to come.
In addition, to growing outside, they have two 96-foot hoop houses, which stretch across the property along with some mini hoop houses. These hoop houses extend the season and allow the farm to provide fresh food for three seasons. SHF currently operates a three season CSA, sells to their own dining services, attends two farmers markets, and sells to Ohio Wesleyan University.
SHF typically operates with around three employees and two apprentices annually. "Next year we plan to launch a four season CSA. We are also expanding drop points for our CSA around the Columbus and will be in Delaware, Powell, German Village, Westerville and Clintonville," he said.
The Seminary Hill Kitchen works closely with their farm team to incorporate the fresh harvest into their daily menus and private events. "Institutions can have a significant impact on local food and educate a new generation of food (and food production aware) consumers. Institutional buying power is the lever by which local farms can achieve wholesale success," said Petersen. "One of the biggest challenges any institution needs to overcome when buying local is a basic understanding of food production. There is an immense amount of planning when it comes to growing food and food buyers need to educate themselves in forecasting food purchases," he added.
Petersen said, we have apprentices from previous years now farming in Chicago, Florida and New York. In the future, we plan on expanding our reach in underserved areas. Last year we worked in the Franklinton and Linden areas of Columbus.
MTSO was awarded a $35,000 grant by The Ohio State University's Initiative for Food and AgriCultural Transformation (InFACT), a Discovery Themes program. Learn more at discovery.osu.edu/infact. The grant helped fund the development and testing of a food hub model in Franklinton, a low-income Columbus community.
To increase Franklinton residents' access to affordable, local food, they piloted an online food ordering interface with a local delivery. This innovative approach to food distribution is a departure from the traditional brick-and-mortar model of food hubs.
SHF brought to this project the experience of meeting state and county regulations for food production, along with distribution and its networking experience with other small-scale producers. The project included the development of a model business plan for future hub businesses and a food hub conference, which was hosted by MTSO and Seminary Hill Farm this fall.