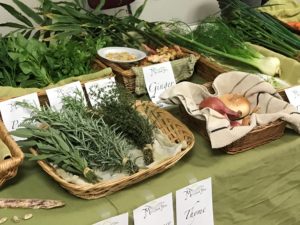 Farm Fare was created when the three co-founders approached the same problem, but through three different lenses.  Laura Adiletta, a former chef and food writer, aimed to improve ability for restaurants and food service kitchens to order superior quality product from local growers. Cullen Naumoff, wanted to get off the road and move freight more efficiently.  And, Dan Conway, co-founder of Great Lakes Brewing Company, knew there was an better way to be stewards of the land.
These lenses revealed a need for a new way of doing business and utilizing existing and often underutilized resources in the regional food system.  Farm Fare reimagines the local food supply chain by equipping economies of collaboration to compete with the economies of scale of industrial foods. They believe business is better together, with family-owned farms, decentralized hubs and sustainability-minded buyers working as a region. The region they serve is the 17 counties in Northeast Ohio, which have small warehouses, or food hubs, to manage the distribution to their customers.
"We started to sell to schools in the fall of 2017. I must give kudos to Alison Patrick at Cuyahoga County Board of Health who played a phenomenal role in encouraging the Ohio Schools Council (a government agency created and governed by school districts for the specific purpose of saving dollars through volume purchasing) to allow Farm Fare to participate in their fruit and vegetable bid," Cullen said.
Farm Fare is a fresh produce vendor for the Ohio Schools Council (OSC). OSC manages vendors by curating a product catalog of offerings with locked in pricing for the whole school year.
The varieties of local produce offered includes: tomatoes, cucumbers, green beans, spinach, hydroponic lettuce, asparagus, fresh herbs, apples, pears, nectarines, and watermelons – ALL OHIO GROWN!!!
Many schools are encouraging others to join them in working with Farm Fare. Another advantage to buying the local produce is that generally it is picked and delivered the same day. This provides a much longer shelf life than non-local produce. School cafeterias are thrilled with the quality of their produce. For example, Shannon Fitzgerald, school dietitian at Avon Lake City Schools said that Farm Fare quality is superior. "The (school) kitchens love to use it, especially the hydroponic lettuce, which is clean and very good," she explained. Some lettuces can last in the cooler for up to 21 days.
"Currently school sales represent about 20% of our total revenue the rest of our customers are restaurants. The big advantage of selling to schools for the farmers is that they can count on the order," Cullen says, "Working with schools represents a the triple bottom line win, improving social, environmental and financial outcomes."
One of the challenges for Farm Fare is to have coordinated production planning among their network of growers to match the supply with the demand. Another challenge is that schools want semi-processed products.  Processing is a long-term goal of theirs.
"Our business is growing! We sold about $35,000 worth of local products to about 15 schools last school year. We have a very specific relationship with all of the growers. If a school would want a farmer to come to their school we know who would be a good fit. There is a farmer from Wellington that has a developed a mobile aquaponics unit and has taken that to the schools. The kids are fascinated by it as offers a direct application to what they're learning in their science and math courses," Cullen said.
One of the farmers in the network commented that he was inspired at a local food event at a high school he attended, where the students were gobbling up his carrots like it was candy bars.