Save the date for the National Farm to Cafeteria Conference in Cincinnati, OH April 26-27. Hosted by the National Farm to School Network, this biennial event will convene more than 1,000 diverse stakeholders working to source local food for institutional cafeterias and foster a culture of food and agricultural literacy across America. Register here now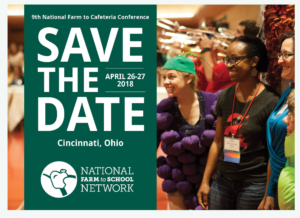 National Farm to Cafeteria Conference in Cincinnati, OH Important Dates:
Jan. 29 – March 9 is Early bird registration
April 9 – Registration closes
April 25 – Ohio Farm to Cafeteria Pre-Conference and Policy Forum, NFSN Welcome and Poster Session
April 26 – National Farm to Cafeteria Conference: keynote speakers and Seminars from national experts
April 27 – Escorted Field Trips featuring Farm to Cafeteria activities in the Ohio, KY, and IN area and short courses.
Go to: www.farmtoschool.org for more info!
Who Should Attend?
The conference is expected to draw more than 1,000 farmers, producers, educators, school food service professionals, parents, business leaders and OSU Extension experts. It is part of an effort to get more fresh, locally grown and produced foods into more school cafeterias and increase farmers' economic opportunities, said Carol Smathers, an OSU Extension field specialist and director of Ohio Farm to School.
"The national conference highlights innovative Farm to School approaches," she said. "We expect participants will become aware of many ways their own work fits within Farm to School efforts.
Attendees will leave motivated to forge new procurement channels, plant school gardens, and offer more Ohio-grown foods in their communities' cafeterias."
The conference will include speakers, workshops, poster presentations, field trips and several short courses.  There are 10 field trips planned to sites such as: school gardens, a food hub, local farms, colleges growing and procuring local food and Ohio's largest school district procurement center where an apple slicer will be demonstrated.
Registration for the conference is $250 due by April  9, with additional costs for field trips and short courses. After April 9, the registration fee goes up to $300, plus any additional costs for field trips and short courses. For more information about the Ohio focused preconference, contact Fovargue at 740-398-8397 or fovargue.1@osu.edu.
Ohio Farm to Cafeteria Pre-conference & Policy Forum
The forum is led by the Ohio Farm to School Leadership Team in partnership with Ohio State's Initiative for Food and AgriCultural Transformation (InFACT) program. It will be held April 25th from 3-8 p.m. at the Duke Energy Convention Center in Cincinnati. The Ohio focused event will actively engage the community in meaningful discussion about current and emerging issues, opportunities, challenges and barriers, and policy development related to serving local foods in schools.
Celebrate Ohio Days: My Plate, My State Dinner
Learn what qualifies as a school lunch program meal through a locally-sourced meal.
RESERVE YOUR PLACE TODAY: Contact: Amy Fovargue at fovargue.1@osu.edu