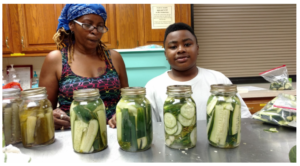 During 2015, Springfield City School District Springfield received an USDA Farm to School planning grant for more than $44,000. Springfield City Schools (SCSD) is an urban district with 8,000 students, the Springfield Grows, Farm to School Initiative contributed to a more economically stable, academically strong, physically healthier, and food secure community. They had two overarching goals; to support the academic, social and career success of youth through project-based learning through agriculture, and to develop an integrated local food system that links local producers with the various SCSD food programs.
The planning grant accelerated the success of the initiative by providing the initial support to retain a part-time project coordinator to ensure the development of a stakeholder team and a strategic plan that ensures an integrated local food system. Sherry Chen was hired as a part-time farm manager to experiment with and evaluate project-based learning opportunities that connect to the Common Core standards in three pilot schools before the project is to be scaled up to the remaining 12 buildings in the district. This year they will add two schools and an early childhood center.
In 2017, they also received the USDA Farm to School implementation grant for more than $98,000. This project is identifying sources for locally produced food and linking them with the Springfield City School District's distributor as well as supporting direct linkages between the school district and area food producers. It will also pilot an innovative community-based approach to processing bulk items, for school-based snack or after-school programs. They are addressing local lettuce and may add apples.
Garden-based activities, including Project Based Learning, will continue to develop at schools with existing gardens. The project will also provide support for installing two winter gardens at schools, transforming one school garden into a dual school-community garden, and increase access to locally grown food through Community Supported Agriculture (CSA) programs.
Sherry Chen, the farm manager is working with three neighborhood women, who serve on an advisory board. They also offered a summer cooking class using produce from the garden and had a farm stand at an elementary school. Chen provides garden science lessons with first graders. "We have a quality vs quantity approach to our education aspect. We have one student returning as a mentor to the year round middle school garden club program. They typically offer a short lesson then go into their project in the garden. The south side schools are struggling academically so the lessons have to be relevant. These grants are a godsend!" she added.
"When I hear that they remember what I taught them, I end up appreciating the little things, because sometimes when working with the younger kids, it feels like I am just herding squirrels," she said.
Carla Patrick a first grade teacher that has had Chen do guest teaching in her classes is thrilled to have the garden programming. "The kids call Sherry the "Plant Lady" and they get excited when she comes for a visit, because her lessons are so engaging. Our kids come from low income homes and this type of experience is not something they have been exposure to," Patrick explained.
To teach a plant's life cycle, Chen teaches the first grader's how to plant seeds in cups, then they get to take them home to continue the learning. In her future work with the schools, Chen plans to do local food capacity building and would like to develop a set of lessons then provide a train the trainer course, which she feels will have more of an impact on the students reached.