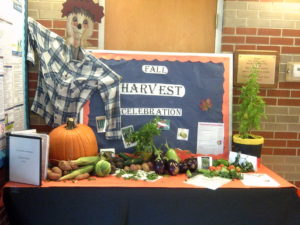 A Head Start in Cleveland has a children's garden that has taken roots and helped to provide nutrition education and fresh produce for the students and their families. Their goals for having their garden is to encourage children and parents to eat more fruits and vegetables, as well as teaching families to have gardens at home. They encourage their families to consume a variety of foods and exercise more.
Thelma Bizzell, site administrator at the CEOGC Louis Stokes Head Start, explained the interest in gardening began at their site in 2013 after one of the teachers read the children's book Up Above and Down Below to their classroom. The students had expressed a curiosity about plants so the teachers began to foster that curiosity by starting plants in cups in the classroom. The students were amazed while watching potatoes grow in pots. Since then, their actual growing area has increased. The following year they expanded their project by growing vegetables in containers outside, then in 2015 they grew four full rows in the ground. Thelma grew up on a farm in Alabama, so she is the "go to" person for the garden.
"We started growing a variety of items that the children and their parents had never seen. For instance eggplant, the parents were not aware that you could eat something purple. A few of the parents did not want to be a part of it at first, but once they tried the vegetable they were excited," said Thelma. The preschoolers just glow when they talk about the foods we grow here. They take ownership and they want to share it with their family, continued Thelma.
The facility has more than 340 preschoolers, which are growing some foods that are then prepared in the on-site kitchen. Besides their garden, they have recently constructed an outdoor classroom. When it is complete, the outdoor classroom will include benches and stools, water tables, a sand area, digging beds, planting areas and a musical area with an instrument and stage. This space will encourage teacher and parental involvement and will allow students to learn in a different environment than the classroom.
Louis Stokes received a $2,000 mini grant from the Cuyahoga County Health Department. With those funds, they bought 350 containers gardens so each child could grow food at home. There is a lot of enthusiasm by the families served by the garden. Thelma said, earlier this year we had parents asking us what we were going to plant in the garden. Whenever the kids pick produce, we will have a party. The kids then eat a fresh salad with their lunch. They serve family style and try to encourage the children to talk about what they are eating at lunch. They also incorporate our fruits and veggies into the menu and encourage their parents to use fresh fruits and vegetables at home.
The Ohio Healthy Program recognizes the Louis Stokes Head Start Center. This is a project lead by The Ohio Child Care Resource & Referral Association (OCCRRA), which offers early care, and education programs the opportunity to earn a designation. Steps toward this designation include attending Ohio Approved professional development, which uses the Healthy Children, Healthy Curriculum, implementing a wellness policy, improving menus and engaging families.
Thelma said, with the Ohio Healthy Program certified their school for teaching about food and nutrition. We send literature home the families to try to combat obesity. We also have workshops for the parents on how to play fun games to keep them moving and keep their children fit.
"We are a unique child development program. We are a family and community engaged center that works with children and families. There is nothing that we cannot accomplish! We see growth and have hope with our parents, children and grandchildren. We wish that everyone could come and check out our outdoor garden and classroom and our enthusiasm will spill over into everything we do," Thelma concluded.