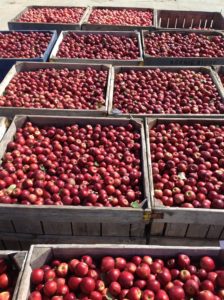 Bauman Orchards of Rittman, OH began selling their fruit to schools, more than 25 years ago. "We started in our hometown of Rittman and branched out to Wadsworth schools," said Jason Myers manager of business and growth development. Primarily they sell schools their apples and peaches, although they grow other produce.
"Providing our apples to schools has been a wonderful addition to our operation. This has enabled us to grow our business. We are fortunate to have four generations of growers and an amazing team pulling together to deliver the best fruit to our customers. In the past, our operation has focused on growing larger apples. However, we have adjusted our production procedures to ensure that there is an adequate harvest of school sized apples," he said.
Our relationship with the schools has been successful! Often, they are looking for a red apple or a green apple. We have the flexibility of providing the schools with seven to nine varieties of red apples and five or six green apples. This kind of flexibility makes it easy to fit into our packing schedule.
Most schools are flexible and allow us to deliver their apples when it is convenient for us on an established route. The people we work with in the schools are fun to interact with, he said.
Delivering fresh fruit to schools can be a challenge. One challenge we had to overcome was locating the delivery door to the cafeteria. Every school is different, but we have discovered that generally the delivery door is near the dumpster. A second challenge is how can we grow smaller apples? Overall, we have begun to see the fruits of our labor with schools, as we have regular discussions on how to develop our facility to meet the demand. These are exciting challenges to have, he explained.
Bauman's sell fruit in the Cleveland Local and Akron Local schools as well as Columbus City, Dublin, Westerville and Worthington which are central Ohio school districts. Our apples reach thousands of children each day and are in hundreds of school buildings every week. With this type of footprint, we take food safety seriously by using responsible growing practices, he said.
The Bauman Orchards offers school tours of their operation. "Few things compare to pulling an apple off the tree and eating it. That's fresh! Because we grow, pack and deliver our products, the children are getting our fruit as fresh and local as they can get," explained Myers.
They have thirty to forty employees that work at their four locations. "The success we are experiencing (now) has certainly provided our employees with more hours to work. It seems that the closer we get to summer our apple sales have slowed down; but the school demand keeps on going," Myers added. (Annually) we move nearly 40,000 pounds of apples to schools in Ohio, he added.
Ben Bauman started Bauman Orchards in 1929 since then the family business has grown. In 1991, an additional cold storage building was built which holds 17,000 bushels of apples. This has allowed them to offer apples for a longer season.
They have increased their apples trees to 40,000 spanning 25 different varieties. They have 8,000 peach trees with more than 15 varieties; including white peaches and their most popular, Red Haven. They also press cider from September through May. All cider is UV (ultraviolet) processed for the safety of our customers. They also have grown sweet corn, tomatoes, peppers, and squash.
Regarding the Ohio Farm to School network, Jason feels their farm has gained a lot of knowledge by attending the Ohio Farm to School meetings that Carol Smathers puts together. "These meeting have great content and presenters along with offering a great networking environment," Jason said.
Joe Brown, Columbus City Schools food service director said, "It's been a savings to order from an Ohio producer of apples as compared to those we were buying from the state of Washington," "We use almost three million apples per year," he explained.
"The local apples are fresher and taste better for our kids. The apples we were using from Washington were a year or two old. Plus, buying local supports our food system," he added.