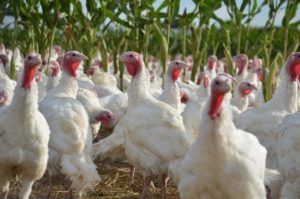 When Columbus City Schools food service director Joe Brown and his team selected the first meal to serve for Ohio Days they wanted to start out with something really popular such as a turkey dinner. After some researching they then selected Bowman and Landes turkey raised near New Carlisle.
Bowman & Landes Turkeys, Inc. raise their own turkey from day one to harvest and process them on the farm. Turkeys have been raised by the Bowman & Landes family farm since 1948 through a partnership that began with Dennis Landes and Kenneth Bowman. Their original mission to produce the highest quality free range turkeys using home grown grains has not changed and continues to drive their organization. They are committed to quality and excellence with the grain they grow, the turkeys they produce, and the customers they serve.
Today, the partner's families farm more than 2,000 acres and raise 80,000 turkeys per year. It is led by Carl Bowman, Steve Landes, Stan Landes and Anita Bowman- Hamber. Their turkeys are raised free-range and without antibiotics. Drew Bowman, another family member involved in the business, feels their birds are happier and healthier. "We needed to find ways to differentiate ourselves from our competition, although only a couple of other growers of 1,000 birds or more are left in the state," he said.
They are not strangers to selling to local universities who do scratch cooking such as; Otterbein, Denison, Oberlin and Antioch as well as restaurants, but this was their first sale to a school. Anita explained that selling to institutions has greatly impacted their business.
"Joe at Columbus City Schools gave us plenty of lead time to get the order of 4,000 pounds of cooked turkey roast containing both light and dark meat along with our oven roasted turkey deli meat ready for his school," said Anita. Some of the other products they sell are:
Turkey bacon
Raspberry chipotle turkey breast
Retail meat and deli
Ground and smoked turkey
Turkey sausages
Smoked turkey tail is very popular now!
And gluten free gravy
Their retail shop on the farm is open year round besides offering everything turkey, they also carry cheeses, breads, pies – local products. As you can imagine their busiest time of year is before Thanksgiving. They hire one hundred extra employees to handle the demand. Their products are also available at grocery stores in parts of Ohio and surrounding states. The local healthy food movement has sure helped our business, said Drew. "We think educating our customers on our process and how we source our products helps promote our business," he added.
"It has helped our business that Columbus City Schools thought of our turkey, and at the end of the day we are happy to help young children receive a healthier lunch. We look forward to providing products that work well in more schools and forming relationships with their representatives," Drew concluded.
There was a lot of excitement in the lunch room when the turkey dinner was served. The children really enjoyed the Ohio grown lunch on January 25th. Along with the Bowman and Landes Turkey there was dressing and gravy from Sandridge Foods of Medina, Salad mix from Waterfields of Cincinnati and an apple from Bauman Orchards of Rittman.
This was the first of the monthly meals planned by Columbus City Schools. The future Ohio Meals are held on the fourth Wednesday of each month. There are plans to continue the program through next school year.