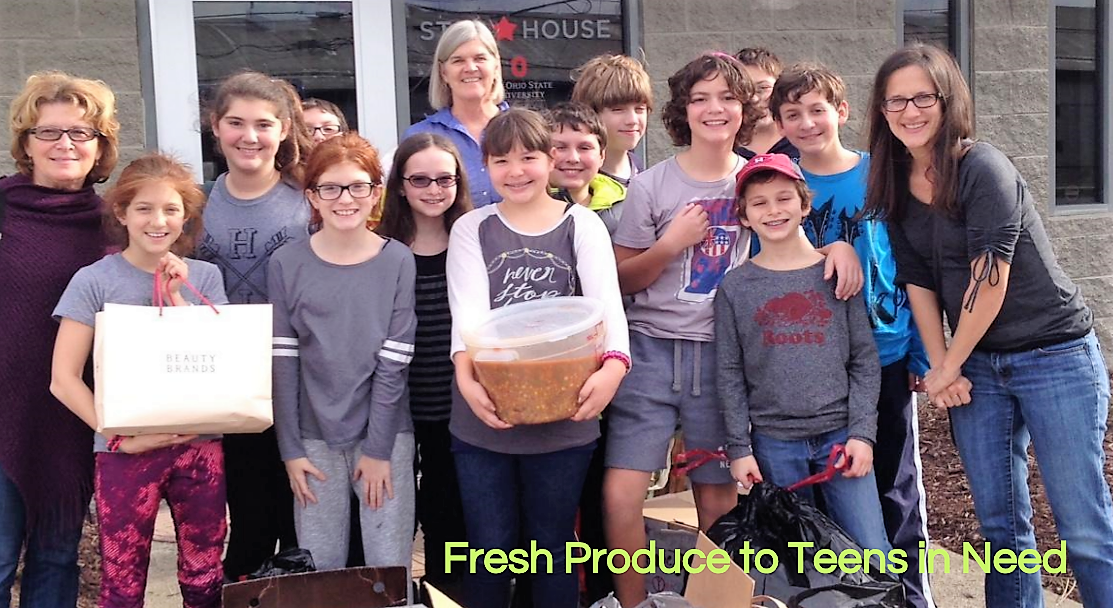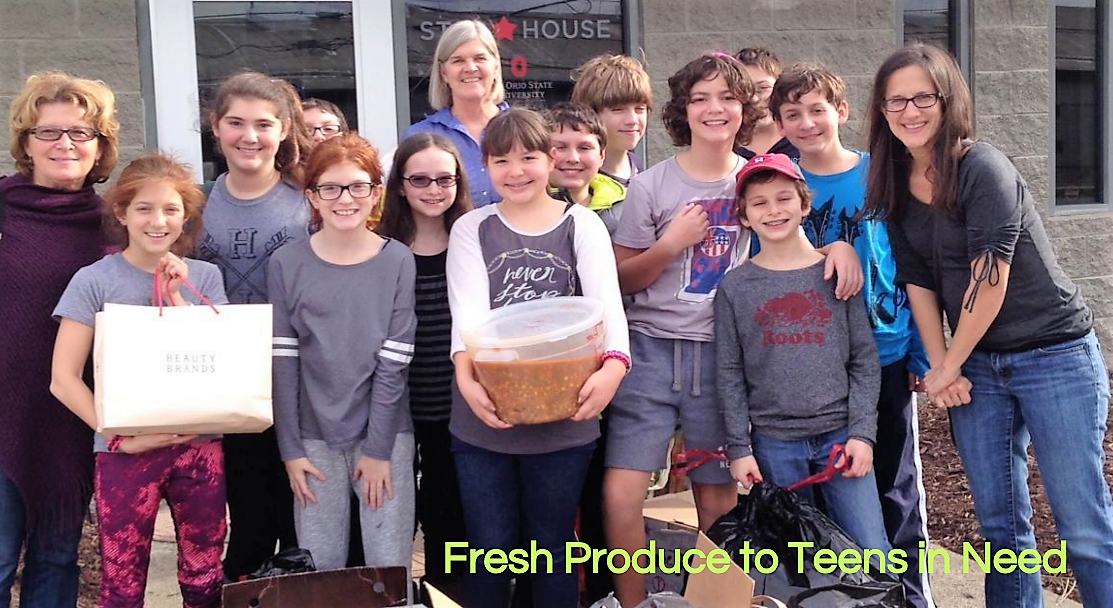 By Amy Fovargue
-Students at Columbus Jewish Day School (CJDS) are learning to grow food and seeing how it relates to their faith by sharing the produce with homeless teens and elders living in poverty. The school located in New Albany covers K-6 grades and has 69 students enrolled.
In 2016 with help from a local organic farm, the students shared 1,400 pounds of produce with people in a nearby senior apartment building. "We eat a little, but we share a lot," said Dr. Gina Freeman, the Dean of Students at the school.
"We want the children to learn about the environment to complement Judaic curriculum," Freeman said. The curriculum reflects on the origins of food and the connection with the Torah, and infusing food with cultural flavors of Jewish communities around the world.
Connections made through environmental education have the potential to touch every subject at CJDS. All teachers actively incorporate activities in the CJDS gardens and nature preserve or extend lessons in one of the outdoor classroom spaces to encourage students to explore our natural world," Freeman explained.
Fifth graders are responsible for composting food after lunch. They maintain the three community compost bins. They collect food scraps after lunch each day. This turns into rich organic soil which is then utilized in the vegetable garden that feeds the hungry.
 Sixth graders take a course about service learning that incorporates environmental sustainable practices, learning how our food connects us to Judaism, and cares for the CJDS vegetable garden which allows them to share harvest. They also manage the Teracycling Program with the help of the Tzedakah Club. In the past, numerous worldwide agencies have benefitted from the recycling efforts of our families.
Meanwhile, all of the students are learning the importance of eating locally for their health and the economy. Whether the topic is focused around earth and space science, physical science or life science our teachers incorporate experiential learning opportunities to help a child understand the world in which they live. "During recess in the warmer months, students are picking bugs off the cabbage plants and using sustainable gardening methods," Freeman said.
The school has seven acres of forest, prairie and wetlands (pond and stream). They have received a Wild Site School designation from Ohio Department of Natural Resources and enjoy their five distinct areas; a butterfly garden, green house, raised vegetable beds with a low tunnel, a meadow garden and a tea/herb garden.
Yarok Together project, started in August of 2015 which encourages collaboration, caring and serving, teaches about life lessons that embrace "ma'achil re'eivim" – feeding the hungry. The fifth and sixth graders at Columbus Jewish Day School (CJDS) and Columbus Torah Academy (CTA) have been working together since late August 2015 to create and renovate gardens on their school grounds. Yarok Together was funded by the Jewish Education and Literacy Fund of the Columbus Jewish Foundation.
Those benefitting from the gardens are residents of government subsidized living or presently homeless. During the first 9 months of the project, volunteer staff, students, alumni, and parents have contributed over 450 hours of community service to the Greater Columbus community through Yarok Together. In addition, the students delivered a fresh salad made from the garden greens to the OSU Star House, a homeless youth drop-in center operated by OSU, serving 14-24 years.
Jewish Family Services, Atid, Wexner Heritage Village, OSU Star House, White Barn Organic Farm, Greater Columbus Garden Association, OSU 4-H Extension Office, Strader's Garden Center, Franklin Park Conservatory and Oakland Nursery are just a few of the agencies that have collaborated to make this project a success.
"The impact of Yarok Together has been remarkable," said Freeman. One resident residing at the Towers at Wexner Heritage Village summed up her perspective by writing a beautiful thank you note and donating to this project. Her gesture was something that really touched the students given her socioeconomic status. Another resident shared the following note on our last visit in December: "We seniors at the Heritage Tower want to thank the two schools for your service to the Columbus area. We had some of your produce earlier this season and enjoyed such freshness. Continue your good work – we are all so proud of you. Thank you again and enjoy your education and family. Blessings to you all, (the)Residents."
One mother, Maggie Sarachek, shared the following in an email, "Yarok Together gives my son the sense of connectedness and joy to manage his other challenges in school, it is fuel for the hard stuff."
One hundred percent of the students surveyed, claimed that the best part of the Fall 2015 program was delivering the produce to residents' doors. A fifth grader was quoted saying, "Doing the deliveries is the best…well, I like the gardening too…I just love everything about what we do. We get to make a difference in other people's lives."
In the future, Freeman says their school is striving toward serving more of the food from the local organic farm in their school cafeteria. The challenge is to keep the food kosher as they currently have a caterer providing their meals.-