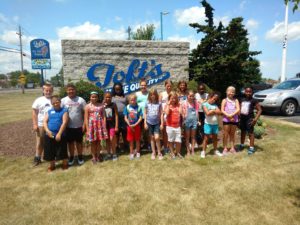 Sandusky City Schools was one of the first schools in Ohio to become active in Farm to School. "The district knew it was a win/win situation for the students and the community", said Brad Kraft, Sandusky City Schools Dining and Food Services Director.
The goal was to offer students a healthier choice of fruits and vegetables and to get them to eat them at the school and at home. "Our challenge was finding a farmer who could supply our district with such a high volume since we feed 3500 students", said Kraft. "We found some local farmers and have a great relationship with Tender Shoot Farm and Eshelman's Orchard", he added.
Kraft engages students in learning about local foods. He teaches students about the nutritional fact of fruits and vegetables by displaying information on television monitors throughout the cafeteria (especially the local ones), so when they go to the grocery store, they can ask for something more nutritional than a bag of chips.
Kraft offers fruit carts at breakfast and lunch which has increased their sales and provided a healthy ala carte food option. These carts are used to offer local vegetables when in season. "Some of the reactions on their faces when they first see a peach or a pear for the first time (are surprising). When they ask…'What's this?'" That's when the true fun begins (for Kraft) of explaining and encouraging them to try it. Nine out of 10 times they like it," he said. The middle and high schools have salad bars. There are 1,200 students served at the high school daily with an average of 150 – 200 using the salad bar.
We have a kitchen at the high school that used to be a culinary program about eight years ago. The culinary program is no longer offered. I cleaned it up and created a project-based learning lab for the elementary students. Students come to the lab and do projects like learning the different types of apples grown in Ohio followed by then food preparation using apples. As they are learning about apples, they are also learning about math and science, he explained.
"We also offer summer classes where third through fifth graders come to the lab and learn about baking breads and cooking vegetables and fruits. When the students complete the class they receive a cookbook of simple recipes to help promote cooking and eating healthy at home", he said.
"I also have teams of students from each elementary school building we call it "The Lunch Bunch Crew". They sit down with me once a month and go over lunch ideas that they would like to see on the menu. I took these students to a dairy farm in Fremont this year and to Toft's Dairy to show them where their milk comes from and how it is processed", Kraft said.
When asked if there was a need to change the school's kitchen storage or methods such as an increase in labor to prepare the local food, Kraft replied that there is one big difference: the school is putting more produce on the cooler shelves and less sugary canned fruit on storeroom shelves. The staff understands the importance of serving our students fresh fruits and vegetables, and they make it work!
Last year, Kraft made a decision to serve as many fresh fruits and vegetables in the cafeterias as possible. The only two vegetables that they don't serve fresh are corn and green beans (frozen). Every day, fresh fruits are offered in all schools for breakfast and lunch. Apples are local all year. The other items they offer are oranges, grapes, kiwi, pineapple, watermelon, cantaloupe, pears, and bananas. These are obviously not all local, but they are fresh!
At Sandusky all of the school buildings have ovens and steamers. The high school has a new full sized Rational Combi oven that they purchased through the USDA Cafeteria Equipment Grant they received two years ago. Kraft said, the staff use it all of the time for their fresh steamed vegetables.
We at Ohio Farm to School are proud of Sandusky City Schools success in combining educational efforts in the community, classroom and their cafeteria!