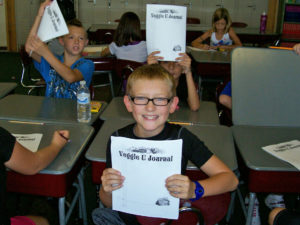 Veggie U Success Story By Amy Fovargue
"Our students are eating better, making better choices for snacks, and getting up on their feet to live healthier lifestyles, that will in turn help them grow into adults who live life to its fullest." This is a testimony from a special needs teacher using Veggie U curriculum.
"I have always been interested in helping my students make better choices about food and daily exercise and this was the greatest gift, to have a program that was designed to do just that. To top it off, Veggie U A+ was already aligned with the Ohio Academic Content standards-extended version (which are used for students with learning disabilities)," said Kristin Dickerhoff a teacher at Murray Ridge schools in Elyria.
"This was such a bonus as an educator, to have a complete comprehensive curriculum that was already aligned with the standards and had all the materials needed to teach sensory friendly lessons of such an important nature. All supplies, materials, and lesson plans were already written and the corresponding hands on worksheets were provided as well, along with an accompanying DVD and IPad app," she explained.
In her classroom of students with autism, many of them have severe sensory issues who avoid various food textures and smells and are often so fixated on only eating certain foods. Therefore, they often do not get adequate nutrition. Having the opportunity to show children how "Good Food" reaches their plates was such a blessing, she said.
"I was completely blown away at how these precious students, who on a typical day would only choose to munch on crunchy chips or soft yogurt, were trying raw veggies during the first week's veggie tasting" lesson," she said.
Even more exciting, students who would never be accepting of the slimy texture of a worm were handling the live worms that were delivered to our room by the Veggie U representative, Susan Fain, for our worm farm in week three. "I can't say enough about how much this curriculum has changed the lives of each and every one of my students and how it has evolved into so much more," Dickerhoff said.
Since the inception of Veggie U at her school, she has instilled "Healthy Snack Wednesday" in their primary wing of 50 students. Every Wednesday, each student in the primary wing gets a healthy snack that is prepared by her class and then delivered to each classroom while Dickerhoff's students practice their communication skills during delivery. Her school has also, opened up a fitness room that she created in one of the empty classrooms. It is now giving each primary student 60 extra minutes of structured gross motor exercise besides the 60 minutes of scheduled adapted gym class each week.
Dickerhoff looks forward to a continued relationship with Veggie U A+ and blessing my students with this amazing program. I have Veggie U A+ and our sponsors Nordson Corporation to thank for this wonderful asset that we have been blessed with here at Murray Ridge School.
 Veggie U delivers gardens to classrooms in order to teach plant science and health in a unique, hands-on way. They know that school gardens are outstanding learning tools, but are not always practical as they are hampered by weather conditions, school property constraints, and educators' time. Veggie U can be part of the school day, and a tool for teachers regardless of their gardening experience.
Healthy soils grow healthy vegetables and healthy kids!
Susan Fain, special needs program coordinator at Veggie U explained, "Each classroom will receive a grow light, soil and worms to learn about plants and soil health, because we feel…Healthy soils grow healthy vegetables and healthy kids. By learning this way, they will retain that veggies are good for them and they learn to like them," she added.
Veggie U A+ which was developed for special needs classrooms is an interdisciplinary program. Along with plant science, math and reading, both verbal and non-verbal language skills are developed. There are many opportunities for social skills practice like taking turns, working in groups and attending a party. Social stories are included in some of the chapter books, as well as life skills such as making healthy food choices and setting the table.
Veggie U A+ designed for special needs classrooms is currently in its third year in the classrooms. The first year it was piloted to 30 classes, the second year was 90 and now it is out in 100 classes, said Fain. "We love what teachers are doing with it! We have schools such as Elyria that have added it to their wellness program. I have never heard of one student that won't touch or taste what they grow. The growing of their own food makes them more confident. The parents are not having such a battle at dinner time. It gives the special needs kids a sense of doing something positive and creates a culture of wellness".
"The kids love to show off what they do. They are so proud. They learn to take care of a growing thing and respect and nurture it. It gives those students a chance to take care of something," Fain explained. Teachers are finding that the program is helpful for students with a variety of learning disabilities and diagnoses. The kids love to get their hands dirty and get very excited about it, she added.
Veggie U is an Ohio based non-profit that works hard to provide classroom gardens at no cost to schools. They are able to do this, through the generosity of their donors and grantors. Sometimes their funding is restricted by donors to specific geographic areas or populations. If funding isn't available for a particular school, we work with the school to identify local sources of funds. A new classroom garden with curriculum is $450 per classroom. The perishable contents of the gardens can be replenished for $225 in subsequent years.
Veggie U is hampered in their growth with a lack of funding. Only 10% of the kits are purchased outright by the schools. They try to find funding for the other 90%. They have a waiting list. To donate or learn more about what the program includes go to VeggieU.org.