By Amy Fovargue
Judy Hanes, a retired kindergarten teacher in Lucas County, combines her passion for working with children and gardening by leading a year round garden club at Hawkins Elementary School in Toledo, Ohio.
This is the fourth year for the garden club led by Hanes, who is also a Master Gardener Volunteer. The Ohio State University Extension Master Gardener Volunteer Program provides intensive training in horticulture to interested residents who then volunteer their time assisting with educational programs and activities for Ohioans through their local Extension office.
"I wanted to have a garden club with the older kids, but they were not as interested as the younger ones. Currently the club has 12 students that are multi-age, with the majority of the kids from the second grade. We meet during the school year after school once a month in a classroom. I typically arrange to have speakers from OSU Extension or the Toledo Botanical Gardens lead them in activities," Hanes explained.
To fund the project initially, retired Hawkins school teachers collected donations from community members. They have received materials from a nearby Lowe's, and the school is buying its compost this spring. A neighborhood greenhouse has been a very generous donor, as well as The Toledo Grows program of the Toledo Botanical Gardens whom have provided most of their seeds and vegetable plants.
In the early spring, they decide what vegetables they want to eat and those are the ones they plant. Typically they like to grow carrots, pumpkins, lettuce, cherry tomatoes and radishes. Last year, they planted the Native American "three sisters", which are corn, beans and squash. "This year they did not mention wanting to grow broccoli. I think I will get some anyway, they will like to watch it grow," she added.
During the month of May, the club meets three times to get all of the planting done. In April they cleaned out the garden and pulled the weeds to prepare for planting. They have 12 four foot by eight foot raised beds for vegetables, plus a pollinator garden.
This pollinator garden has become an official Certified Wildlife Habitat®. To become certified the area must attract wildlife and help restore habitat in commercial and residential areas. The students have provided food, water, cover and a place for wildlife to raise their young. "The students have really enjoyed studying the insects that the garden has attracted," said Hanes.
"We meet in the summer once a week to pull weeds, water, and harvest along with some educational programming from OSU's Supplemental Nutrition Assistance Program Education (SNAP Ed) to teach the kids about healthy snacks and USDA My Plate Activities. There is an outside classroom that works well for our club having a counter, tables and a chalk board," she explained. Most of the educational programming is provided by outside agencies like SNAP-Ed.
Hanes provides the kids with tote bags that the students can haul their harvest home to enjoy with their families. "Parents and grandparents really want these kids to know where their food comes from," Hanes noted, "and some families may have gardens at home as well".
"Toledo Public Schools, like many large, urban school districts, does not necessarily source local foods for the cafeteria. So, that part of Farm to School is not well represented here, but we do see many schools doing the important garden education piece of Farm to School, like Hawkins Elementary School," said Patrice Powers-Barker an OSU extension educator.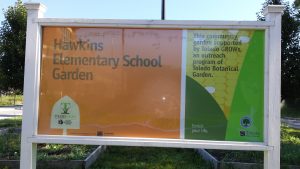 In past years, they had an herb garden that grew thyme, basil and oregano. The herbs were available for the teachers to take home. "During our first year, we also planted gourds and dried them. We then made bird feeders and sold them at a parent teacher conference night. During the winter we feed the birds from sunflowers we grew," she said.
"One year we were having trouble with our pumpkin plants and our Extension educator Patrice
Powers-Barker used a knife to slit open the stem to discover borers. The kids were very interested in seeing those. They were amazed at what was inside. They also liked to see the swallow tail caterpillar," Hanes said.
"The kids coming now are really interested and diligent in wanting to learn. It is good for them to see the whole process. It's a life skill to take care of the plants and grow their own food!" Hanes concluded.
Contacts
______________________________
Judy Hanes, Garden Leader
Toledo Public Schools
Email: judyhanes@msn.com
______________________________
Patrice Powers-Barker, OSU Extension Educator
Lucas County
Email: powers-barker.1@osu.edu