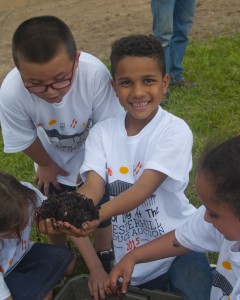 By Amy Fovargue
Two school day events were held in 2015 at the Chesterhill Produce Auction, a rural food hub operated in Morgan County by the nonprofit Rural Action.
Last spring, 170 students from The Plains Elementary and Alexander Elementary learned about the local food system by actively participating in planting, composting, nutrition, cooking, insect sampling, a mock auction, philanthropy, and food access and distribution.
Rural Action's Environmental Education Coordinator, Joe Brehm, developed curriculum that met the appropriate learning standards. Jennifer Trainer, a teacher at The Plains Elementary School said, "Our second graders enjoyed themselves and learned a great deal about local food."
Trainer was pleased to have demonstrated at the auction the main science standard: observe and ask questions about the natural environment.  They were able to compare soil types and plant beans in the garden. They participated in an auction to demonstrate how the auction works where community members and restaurants come to buy fresh produce. The students also viewed fantastic visuals to show how and why produce is better when it comes from local farms and farmers instead of being trucked from states away.
"Anytime we can expose our children to real-world experiences (outside the classroom) it is beneficial.  Sure, some of our kids have gardens, yet has anyone taught them about the soil types and the benefits of growing their own food? Making their own salad dressing was very exciting for the kids, because most families just get their dressing from a bottle.  They are also more likely to taste new foods if they have a hand in preparing them," Trainer said. The stations were fun, engaging, and motivating, so the students were on-task and well-behaved, she added.
Rural Action is a membership based organization working to build sustainable local economies in Appalachian Ohio. This activity was a continuation of their Farm to Institution to School Program.  Through this program, Rural Action receives local produce purchased from the auction that is then processed by Hocking College Culinary students, and ultimately delivered to schools.
This event grew out of the desire to connect the students with the local food in their school's cafeteria. Sponsors of the effort included Hocking College, Live Healthy Appalachia, Community Food Initiatives, Ohio University's COM-Corps program, the Athens City School Nutrition Group, and Rural Action's Environmental Education Program.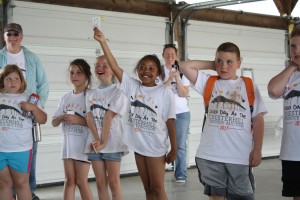 Funding was provided by a USDA Farm to School Support services grant, Sisters of Saint Joseph Charitable Fund, the Osteopathic Heritage Foundation and many local restaurants. Each student received a t-shirt with all of the sponsor's names as a memento of their day. Rural Action plans on hosting more school days in 2016.
"I was a sponsor because I really appreciate all that Chesterhill Produce Auction does in helping my business and community obtain quality local foods. Also, I think it's important to teach kids while they are young the many health and economic benefits of sourcing food locally," said Andrea Molnar of Lui Lui restaurant.